Tool embarked on their 2019 US Tour last week. The California-based group saw headlining dates at Jacksonville's Rockville Festival and Birmingham's Legacy Arena before bringing their brand of progressive metal and psychedelic visuals to Louisville, Kentucky.
The band is no stranger to motif, setting the tone early in the night with the title track from 1996's Ænema. Maynard James Keenean croons his wishes for the city of L.A. to be cleansed in a biblical style deluge. The band's massive visuals seemed to keep with the apocalyptic theme, desolate organic wastelands juxtaposed with scenes of post-industrial dystopia seemed the rule. As expected, the artwork of Alex Grey also played a prominent role in the bands stage production, the artist's glowing, anatomical figures seeming to take on the responsibility of cosmic chaperone for the evening.
The band delivered a set of fan favorites, running through Lateralus classics like
"Parabol" into "Parabola," and an extended version of "Schism" before closing out the night
with 10,000 Days cut, "Vicarious" (accompanied by birthday wishes for drum titan Danny
Carey,) and finally the Ænema classic "Stinkfist" to close out the concert.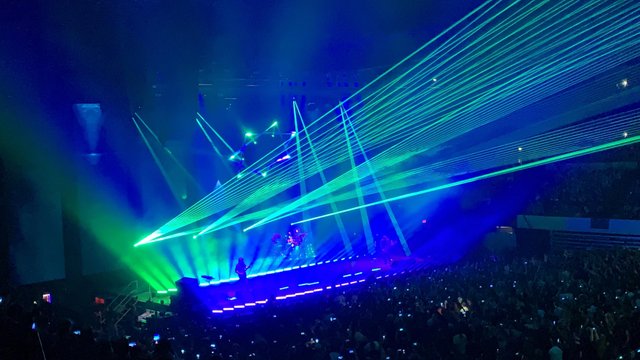 It's important to mention the two new tracks making the setlist this tour, ten-minute-plus epics "Descending" and "Invincible," as well as what appeared to be an album release teaser; a graphic with the band's logo and the date "August 30th " flashing above the stage during intermission – which would be the first Tool album released since 2006's, 10,000 Days.
TOOL Setlist – KFC YUM! Center – Louisville, KY 5/8/19
Ænema

The Pot

Parabol

Parabola

Descending

Schism

Invincible

Jambi

Intolerance

Forty Six & 2

intermission

CCTrip (

Danny's Solo, Synth & Drums)

Vicarious (

Happy Birthday to Danny With Crowd

)

(-) Ions