Forecastle Festival's 2016 installment was marked by incredible art, progressive community activism, and of course, world-class musical acts. No longer Bonnaroo's little brother, Forecastle has taken on it's own unique identity that makes it a must for any hardcore music fan; or even just a casual listener that wants to experience new sounds and great food and drink in a laid-back festival atmosphere. To recap the event, we'll highlight some of the impressive things we saw both on and off stage this year.
Despite a short weather-related evacuation on Friday evening, it was smooth sailing for the rest of the festival thanks to three pillars that were the backbone of Forecastle that stood out to the Dead Audio Team over the weekend: Craftsmanship, Fellowship and Partnership.
Detailed Craftsmanship on (and off) Stage
Building a city for 65,000 temporary residents in the heart of downtown Louisville takes real work, and Forecastle pays attention to the details. It seemed as though each booth, vendor space and stage had been carefully constructed to showcase their unique features.  Take a look at some of the over-the-top creations we saw throughout the weekend:
The Bourbon Lodge
On Friday evening we ran into Ashley Capps, President of AC Entertainment.  When asked to describe Forecastle in one word he replied, "Bourbon," and we couldn't agree more.  If there's one thing Kentucky does right, it's crafting excellent bourbon.  The Bourbon Lodge is not only a refuge from the heat, but the best place to get a Kentucky-inspired cocktail in the middle of the festival.  The venue not only pours libations from distillers from the Kentucky Bourbon Trail, it hosts bourbon-centric fireside chats and seminars such as "Cooking with Bourbon" and "The Sordid Histories of the Old Fashioned."
Gonzo Bar
Louisville's weirdest son, Hunter S. Thompson's birthday was on the day following Forecastle, yet his spirit was evident all around the Waterfront.  The Gonzo Bar is a tribute to the late writer offering some of his favorite cocktails inside a Fear and Loathing-inspired booth where you can sit at a typewriter and craft a Forecastle message to your weird friends.
Party Cove/Art Ship
New to Forecastle this year was the Party Cove, a shaded grove nestled in the back of the venue, allowing attendees to escape to a shaded land of hammocks, trees and lights.  The main attraction at the Party Cove is the Art Ship, a full-sized boat that artists paint throughout the weekend, allowing their work to grow as the event progresses.  At night, the Cove lights up, the Boat turns into a DJ booth and the disco balls drop from the trees to get the party started!
API Poster Show
A staple at Forecastle, the API Poster Show allows screen printers the chance to showcase their incredible catalogues.  With thousands of unique, hard-to-find and out-of-print posters available, it's a print collector's dream.  It's always nice to stroll among the booths and find posters to shows you were at, chat with the artists and find a new favorite print for your home.
Music
Year in and year out, Forecastle puts out one of the best music lineups in the country.  This year's bill was headed up by some heavy hitters including The Avett Brothers, Alabama Shakes, Local Natives, Ryan Adams and Death Cab for Cutie.  The festival also boasted an impressive undercard with acts like Glass Animals, Unknown Mortal Orchestra, Moon Taxi and The Arcs. Each band is a master of their craft, weather it's impeccable lyricism from Danny Brown, unreal guitar talent from Gary Clark Jr., or funky EDM/Saxophone fusion by Big Gigantic, each artist showcased their unique talents on stage.  Here's some of our favorite music moments:
Fellowship with New and Old Friends
In today's heightened sense of security, Forecastle offers three days of worrisome fun with a diverse, like-minded population.  Traveling from out of town, we didn't expect to encounter so many familiar faces. Yet it seemed like everywhere you turned there was either an old friend next to you, or a new one about to be made, and it seemed as if everyone was with a large group of their friends. And if we have learned anything from music festivals, it's that they are best with as many friends as possible!
The music lineup set the tone for togetherness. Bands such as the Alabama Shakes, The Avett Brothers, Ben Harper and Local Natives sang about the importance of family, inclusion, taking care of one another, and gave tear-jerking performances of nostalgic, intimate songs.
While the Mast Stage seemed to be dominated by more mellow, easier-on-the-ears bands, festival goers needed only to navigate to a side stage for an explosion of energy.  The live-tronica duo Big Gigantic kept the crowd dancing into the night with an extended, funky set.  Members of Houndmouth showed up to Teddy Abrams and Friends, and late night after parties allowed groups to do it all over again once the festival had ended for the day.  All in all, the lineup brought people together, and that's what music is all about.
Partnership & Collaboration
It takes real collaboration to put on an event of this size, indeed, it takes a village.  This year, Forecastle continued to partner with groups that share their same values and give back to their community.  Forecastle encourages their partners to be active and involved in the festival, and brands really got into the festival spirit this year.  While Forecastle partners with dozens of groups that are all contributing to the festival in their unique ways, here's just a few partners we the DAB team had the pleasure of interacting with over the weekend:
City of Louisville
Forecastle just couldn't happen without the cooperation and collaboration from the City of Louisville.  From a helpful, non-aggressive and friendly police presence, to Mayor Fischer introducing Alabama Shakes with quotes from the recently-passed Muhammad Ali, Louisville pride was in full force.  The partnership is lucrative as well, boasting a $14 million economic impact for the city (source: bizjournals.com)
LaLa Land Studios & Against the Grain Brewery
On the Thursday night prior to Forecastle, we attended La La Land Studios, home to the creation of many great albums made by Forecastle alums.  Also that evening, beer powerhouse Against the Grain Brewery hosted a free Forecastle kick-off event, allowing festival-attendees an opportunity to get their wristbands early, mingle with other attendees, and grab a cold one in downtown Louisville. Tunes were provided by Louisville Psych-Rock Wax Fang.
ENO
There's nothing more relaxing than a shaded hammock area on a hot day. As always, ENO provided comfortable hammocks throughout the venue so tired festival-goers could catch a second wind.
Kentucky for Kentucky
Just as quirky and cool as Forecastle, Kentucky for Kentucky hosted the "Kentucky for Kentucky Derby" all weekend.  At this booth, you and three friends race against each other on bouncy ball horses for bragging rights. The group was also behind that "Kentucky Kicks Ass" airplane banner circling the skies over the main stage.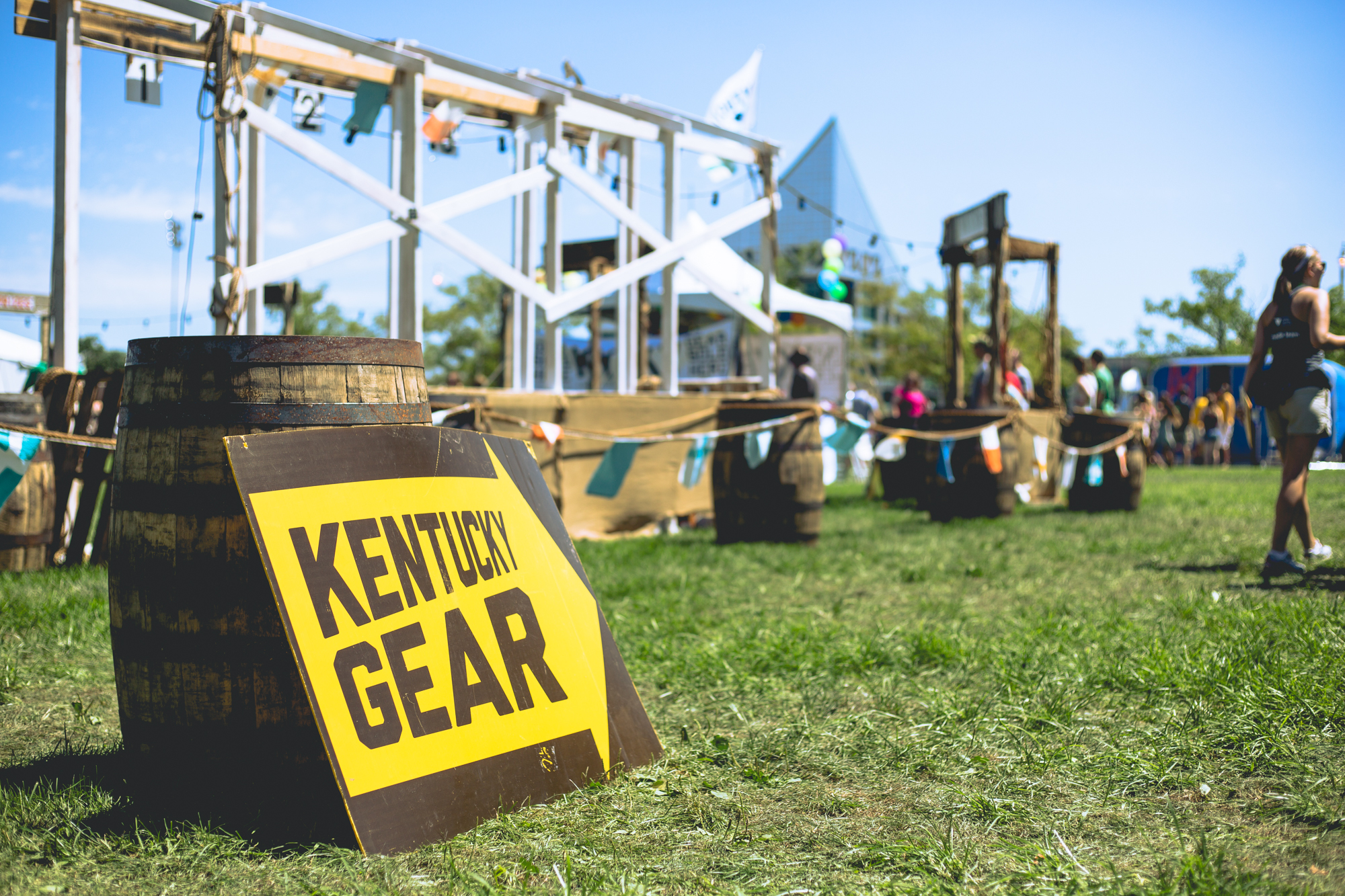 The Dead Audio Team looks forward to seeing you at Forecastle 2017 and encourages you to to #stayonboard throughout the year!