"What sets Forecastle apart is that it is a celebration of a sense of place," said Ashley Capps, AC Entertainment Founder, during opening remarks at Forecastle Festival 2018, "and that place is Louisville, Kentucky." Forecastle has become more than just a music festival, it's an annual pilgrimage for many to enjoy all that Louisville, and The Commonwealth of Kentucky, has to offer. Having attended Forecastle's humble beginnings at Tyler Park 16 years ago, Louisville Mayor Greg Fischer added, "To watch Forecastle's organic growth is inspiring, it's the default culture of our city. If you can put together great art, music and throw in activism, you've got a winning formula…Forecastle is who we are and where we're going as a city."
This year, Forecastle was bigger and better than ever. Even with 65k people attending the event, shows  seemed intimate and the crowd was spread out thanks to the relocation of the WFPK Port Stage to the shaded, tree-lined Kentucky Landing (local vendors and food), and adding a ferris wheel near the Party Cove, pushing patrons to opposite ends of the park for opposite activities: Kentucky Landing for laid-back, blanket-sitting tunes, or to the Party Cove for non-stop DJs and dancing. Adding to this, revered Louisville Composer Teddy Abrams curated the WFPK Port Stage this year, securing strictly Kentucky-only bands for the stage, giving smaller artists the opportunity to be showcased to a large crowd and promote the local scene.
For the past decade or so, the Dead Audio team has attended Forecastle to see some of the best live music in the world, and this year was no different. From headliners such as indie rock royalty Arcade Fire and Modest Mouse to some of the fastest-rising artists like Rainbow Kitten Surprise and Khurangbin to local flavors like Teddy Abrams & Friends, the annual festival showcased the best of Louisville. Here's the best of what we saw over the weekend.
Rainbow Kitten Surprise
If you've followed Dead Audio for any time at all, you know that were huge fans of Rainbow Kitten Surprise. After following the band since it's inception in 2013, we've seen RKS rise to international stardom, seeing them play small bars to big rooms, and now Forecastle. Taking to the Mast Stage on Friday during one of the hottest set times of the weekend, the Boone, NC. indie rockers kicked off their set with "Fever Pitch" the first single off their stellar second LP How to: Friend, Love, Freefall. The opener allowed Sam Melo (vocals) to translate his manic music-video-dancing to the big stage, bounding from stage end-to-end with a swagger that only Melo can generate.
While indie rock at heart, RKS showed the band's hip-hop influences on songs like Freefall and Devil Like Me, in which Melo and Derrick "Bozzy" Keller (lead guitar) traded off lyrics in rap battle fashion. While it was a streamy, daytime set, Rainbow Kitten Surprise proved that they can bring down a room or hype up a massive festival crowd with their unique version of poetic, lyrically-driven rock.
Arcade Fire
When I saw Arcade Fire for the first time in 2011, it went down as one of my top shows of all time. Flash-forward seven years and two albums later, and the Montreal indie rockers are still putting on some of the most over-the-top concert productions in the world. With little more than a massive disco ball adorning the stage, Win Butler (vocals, guitar) made his way through the crowd like a boxer being pumped up for a fight, fist-bumping attendees and giving a hat-tip to those cheering him on. As song teases swirled around Forecastle's Mast Stage, fans were whipped into a frenzy as the stage-spanning LED screen flickered alive and soon after, all nine (!) members of Arcade Fire took to the stage, busting into the disco-heavy "Everything Now" the title track off their most-recent album –  Soon after, Win Butler (lead vocals, multi-instrumentalist) picked up a cowbell to begin the gothic calypso beat of  "Here Comes the Night Time" from 2013's Reflektor, showing how seamless some of their songs can weave together despite having vastly different album themes.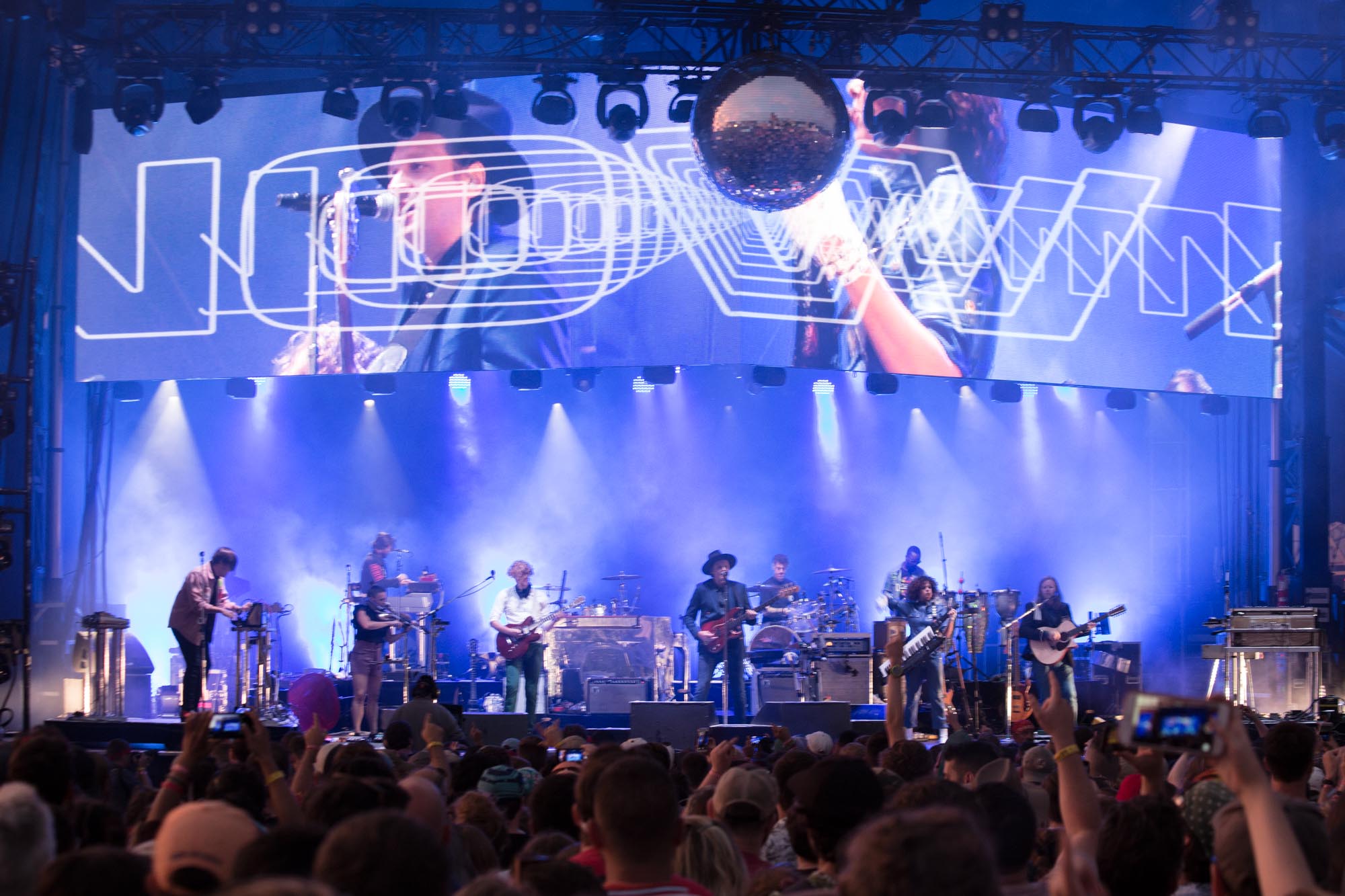 Arcade Fire played for nearly two hours, at times highlighting the electronica of Reflektor which culminated in a show-stopping rendition of "Sprawl II (Mountains Beyond Mountains)" a call for listeners to follow their dreams and not "just punch the clock" as Regine Chassagne (vocals, multi-instrumentalist) weaves heart shapes in their air with ribbons. Older hits were also revived, including a powerful 0ne-two punch of "Neighborhood #3 (Power Out)" > "Rebellion (Lies)" early on in the concert.
Arcade Fire are true showmen, at several points throughout the concert members would appear in the middle of the crowd, performing portions of the show on a riser, breaking down the barrier between band and audience. At one point Will Butler (multi-instrumentalist) climbed the scaffolding of the stage, banging a drum as a sole spotlight illuminated his solo.
Arcade Fire are surely one of the biggest names to grace the Forecastle Stage. It was evident that the booking was well-placed as the band finished their massive set with the crowd-singalong favorite "Wake Up" as attendees hummed the "ohhh ohhhh" hook into the Louisville night air to end the festival.
Modest Mouse
The anticipation surrounding Friday night's headliner was as thick as the July humidity. Having just played the festival in 2015, attendees were wondering what could Modest Mouse have in store for the Waterfront this time around. Hitting the stage with (now) seven band members to include a full horn section, Issac Brock (Vocals, Guitar) donned a nautical Captain's hat, quite fitting as many of Modest Mouse's standout tracks use water and boats as major themes. Brock was the Captain now.
Modest Mouse began their set with the horn-heavy track "The World at Large" the opening song off the band's biggest commercial hit album Good News for People Who Love Bad News. It was a perfect song to kick the set off, because either you know all the lyrics, or you can opt to sing the underlying "bop-bop-bop-bah-dah-dah-bop" chorus that runs throughout the song. From there, the band pulled sparingly (but pretty equally) from Good News.., We Were Dead Before the Ship Even Sank and Strangers to Ourselves.  The song "King Rat" from 2009's No One's First, And You're Next was quickly abandoned after Brock fumbled the beginning notes.
Midway through the set, the band roared into a menacing version of "The Devil's Workday" harping on evil lyrics like "gonna take this sack of puppies, going to set it out to freeze" under strobing black and red stage lights. The set highlight occurred during the final track, a menacing, eight-minute version of "Tiny Cities Made of Ashes" that included an incendiary "Devil Went Down to Georgia"-like electric violin solo and swirling trumpets.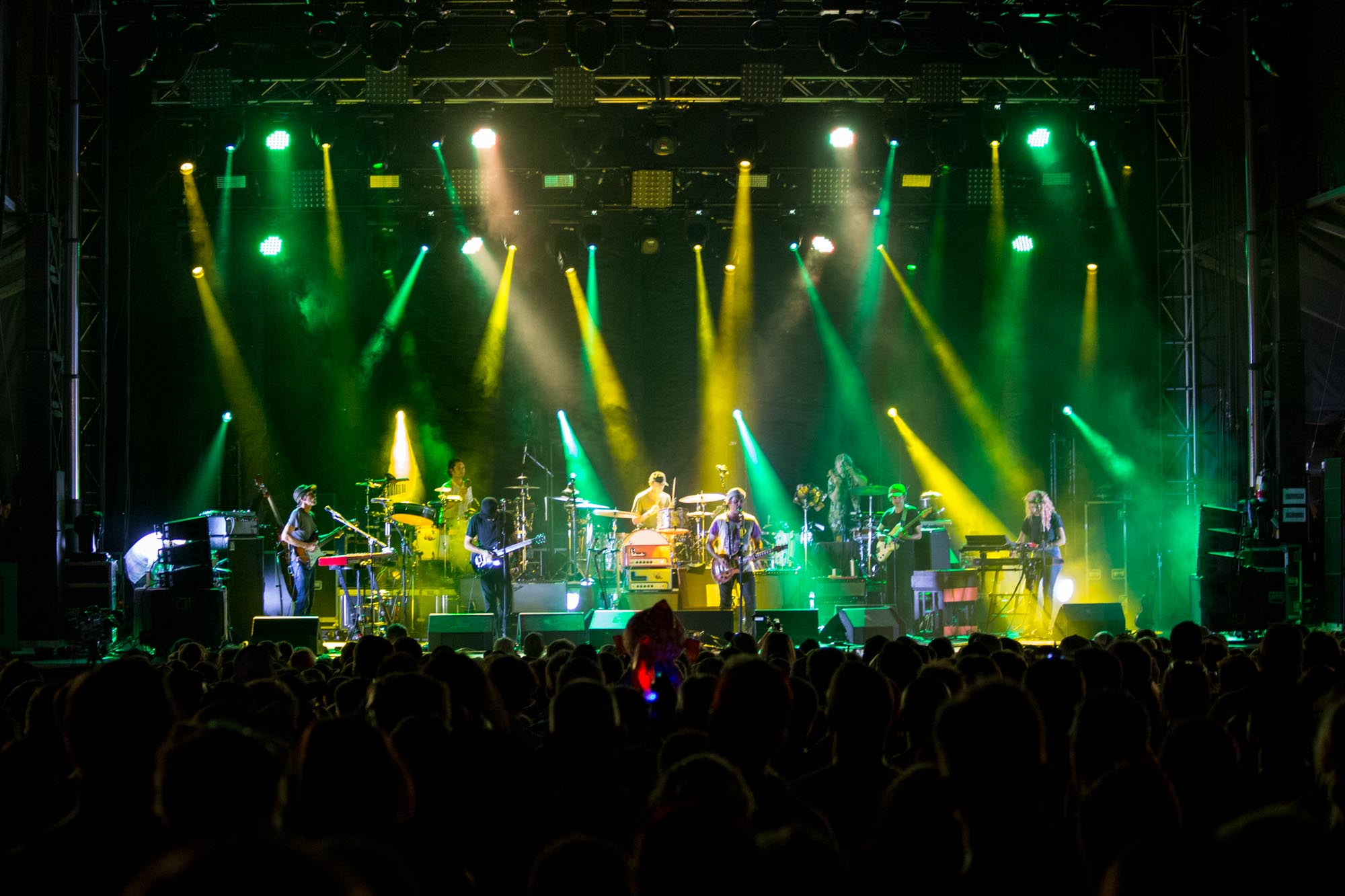 The Party Cove
One of the many things that make Forecastle such a great festival is how much it draws from local talent. This year, some of Louisville's finest acts were on display, from Houndmouth's set on the main stage to the WFPK Port Stage, whose primary purpose was to celebrate music and culture from around the region. But there is another oft-forgotten place inside Waterfront Park that continually showcases some of the best that Louisville has to offer: the Party Cove.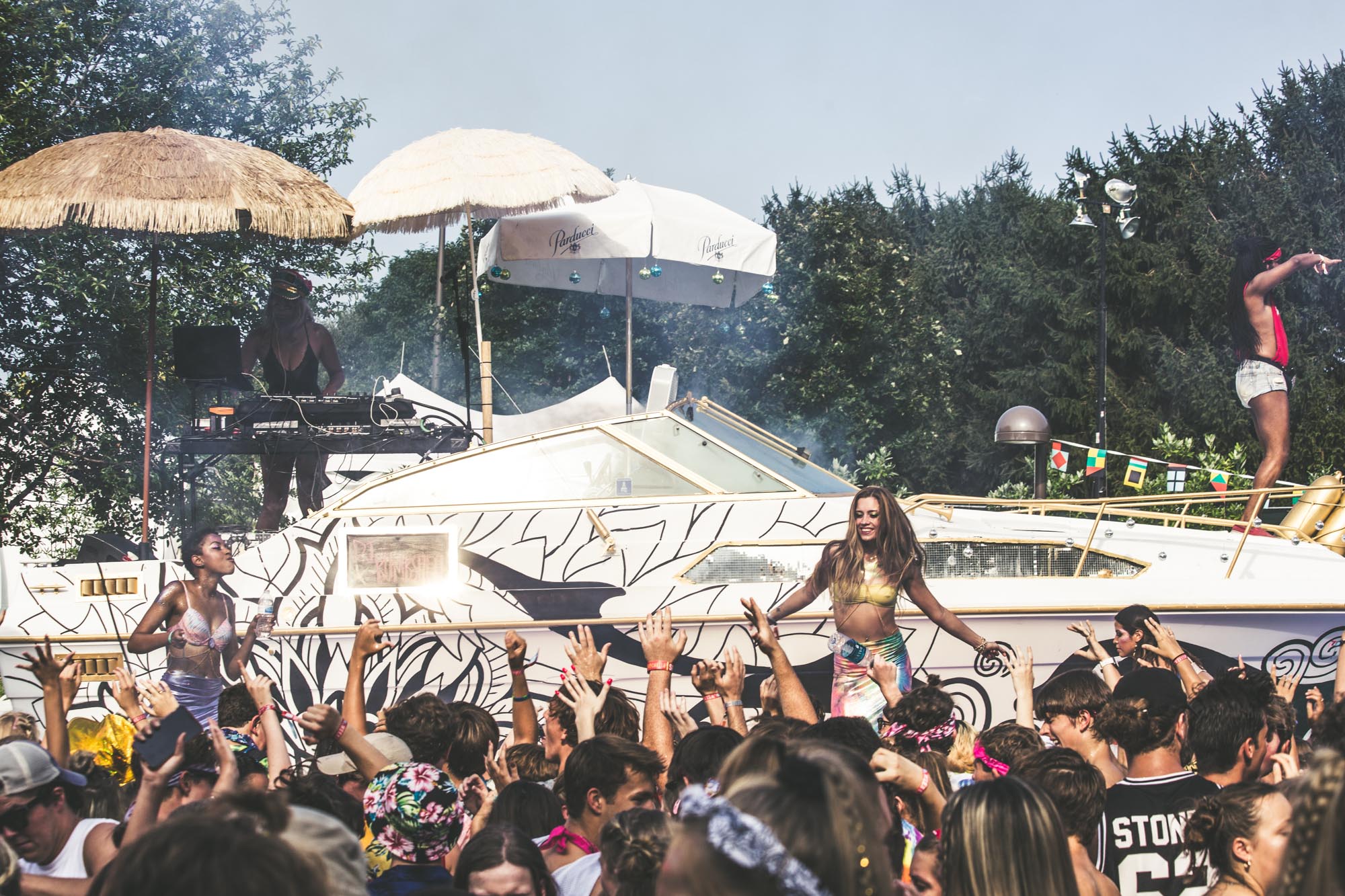 Forecastle's version of a DJ Tent, the Party Cove is always there to provide a dance party whenever you are looking for one. Among the stellar lineup of well-known local club acts such as DJ Bombshell and Glittertitz, the OK Deejays Sunday set was stood out as a particularly rowdy affair. Their house and electro beats drew festival goers onto the dance floor like moths to a flame. Mermaids (and Mermen) served as Party Cove ambassadors as they danced on and around the stage, using water guns to cool down the crowd and seemingly having their own contest of Who Can Be Covered In The Most Glitter.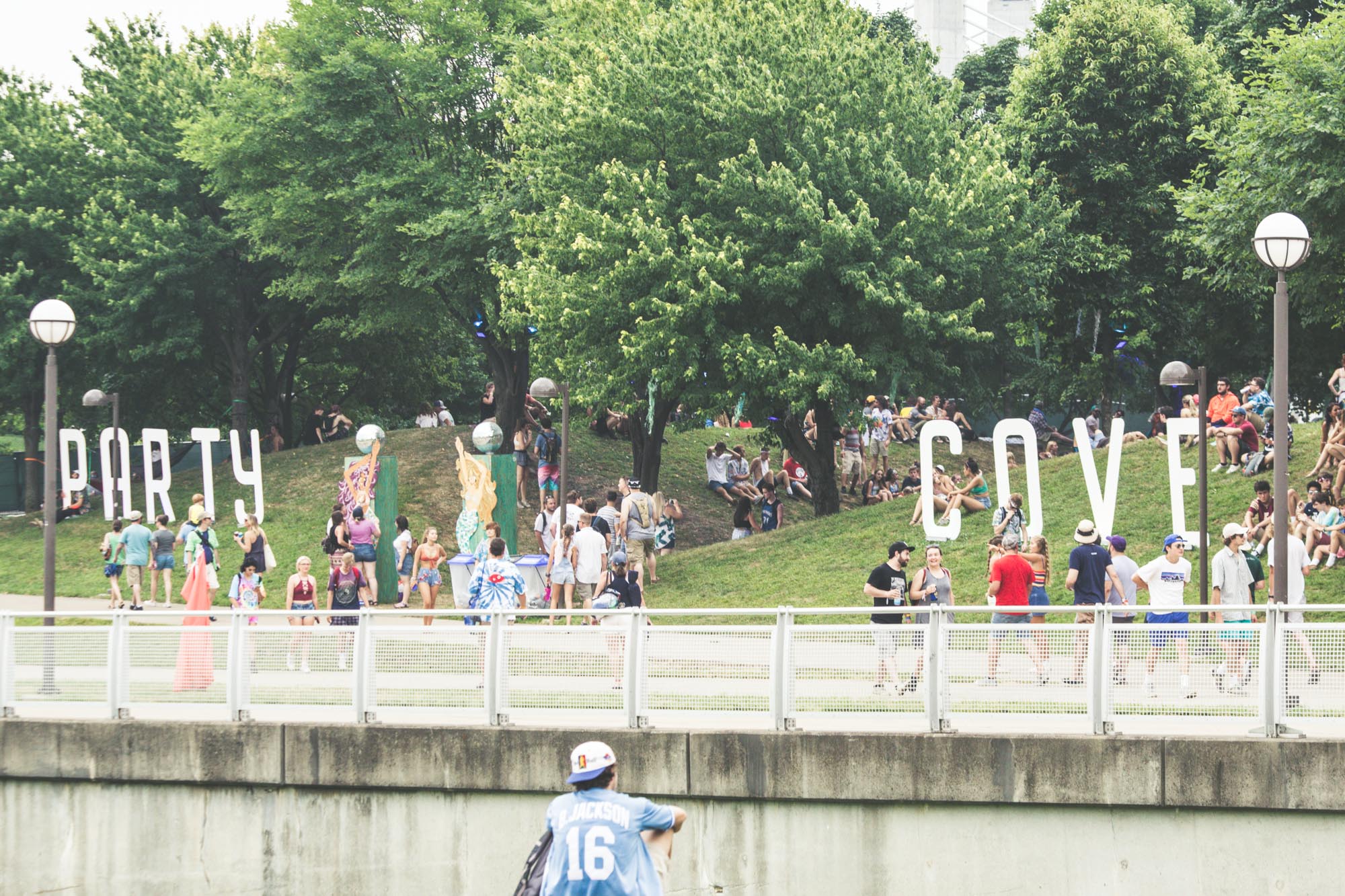 OK Deejays dove into their trove of samples to provide rich, complex beats that ranged from bouncy and poppy to dark and industrial. One thing's for sure, though: the crowd never stopped moving. As the set came to a close and I emerged from the crowd drenched in sweat, I wondered to myself why I hadn't spent more time in the Party Cove. Forecastle just has too much good music going on elsewhere to stay in one place for very long. But for those of you that have never checked out the Party Cove, just know that you are missing out on one of the best dance parties Kentucky has to offer. Next year, get over there and get sweaty. Long live the Party Cove. by Ben Hayes
The Josephines
Don't miss the home shows: The Josephines are purely Kentucky and their sound backs it up. You like bourbon? You like KFC fried chicken? Odds are, you'll dig The Josephines.
Saturday's day show for the Bowling Green band was thick with familiar faces. The people who really knew what was gonna go down. These are the bands you don't miss. These are the bands that curators book early in hopes of bringing your ass to the Waterfront asap to start slangin' bourbon.
Not quite country, not traditional rock and roll; the band's harmonies are pure grit as they sing of coal and the stubborn drunk girls we hate to love. Alex Lindsey on the steel guitar is going to be one to watch in the future as he masters the instrument. If that chicken and bourbon comparison didn't convince you, maybe Sam Bush's endorsement on their 2017 Sober Up-Ep  might. Check 'em out Y'all! by Joel Stevens
Ron Gallo
Sunday provided some relief from the heat for a day of world-class of music. Many attendees chose to take advantage of the cooler weather and arrive earlier than they might have otherwise. Ron Gallo seized the opportunity to prove that he and his band truly are Really Nice Guys. In a moment of on stage chaos, Dylan Sevey (drummer) "dropped" his drumstick after tossing it carelessly into the air. Frontman, Gallo, encouraged him, "Don't worry, it's ok." Joe Bissiri (keyboard) mangled a tune only for Gallo to reinforce "You got this." Then, Gallo pulled a folded note from his pocket, cleared his throat, and began to carefully read to the audience, as if having trouble reading his own handwriting; "I want you to remember..This is IT. There is nowhere else you need to be. You are who you need to be."
The band then returned to the music, thrashing through heavy/blues/psych jams. They also squeezed in a Sinatra cover, "Somethin' Stupid". I went into this show with high expectations and these Nashville rockers exceeded them. by Joel Stevens
Khruangbin
If you don't know how to say their name, it's cool, we didn't either until their Sunday set at Forecastle, and Khruangbin has been on our turntable all year (it's pronounced "Krong-bin"). Mostly instrumental, and known for blending many global music influences, the band was a stark contrast to the mainly EDM and hip-hop artists that dominated the Ocean Stage throughout the weekend. But what a way to ease into the final day of the festival with some of the most fine-tuned, Thai/Middle East/Spanish instrumental Funk in the world!
Donning their signature black wigs (save the drummer), Khruangbin began their set with "Dern Kala" incorporating coordinated dips into their movements, serving as the band's only "dance move" throughout the show. In fact, even with a massive, stage-spanning LED screen behind them, it went totally unused, allowing the music to speak for itself.  During long, drawn-out grooves Mark Speer (guitar) would gaze into the distance with a thousand-yard stare while effortlessly mixing sultry soul and jammy jazz. While decidedly funk, Khruangbin showed off their hip-hop influences by incorporating a crowd-hyping medley of "Next Episode" > "Today Was a Good Day" > "Regulators" > "Ain't Nothin' But a G Thang" > "Summertime" > "Summer Madness".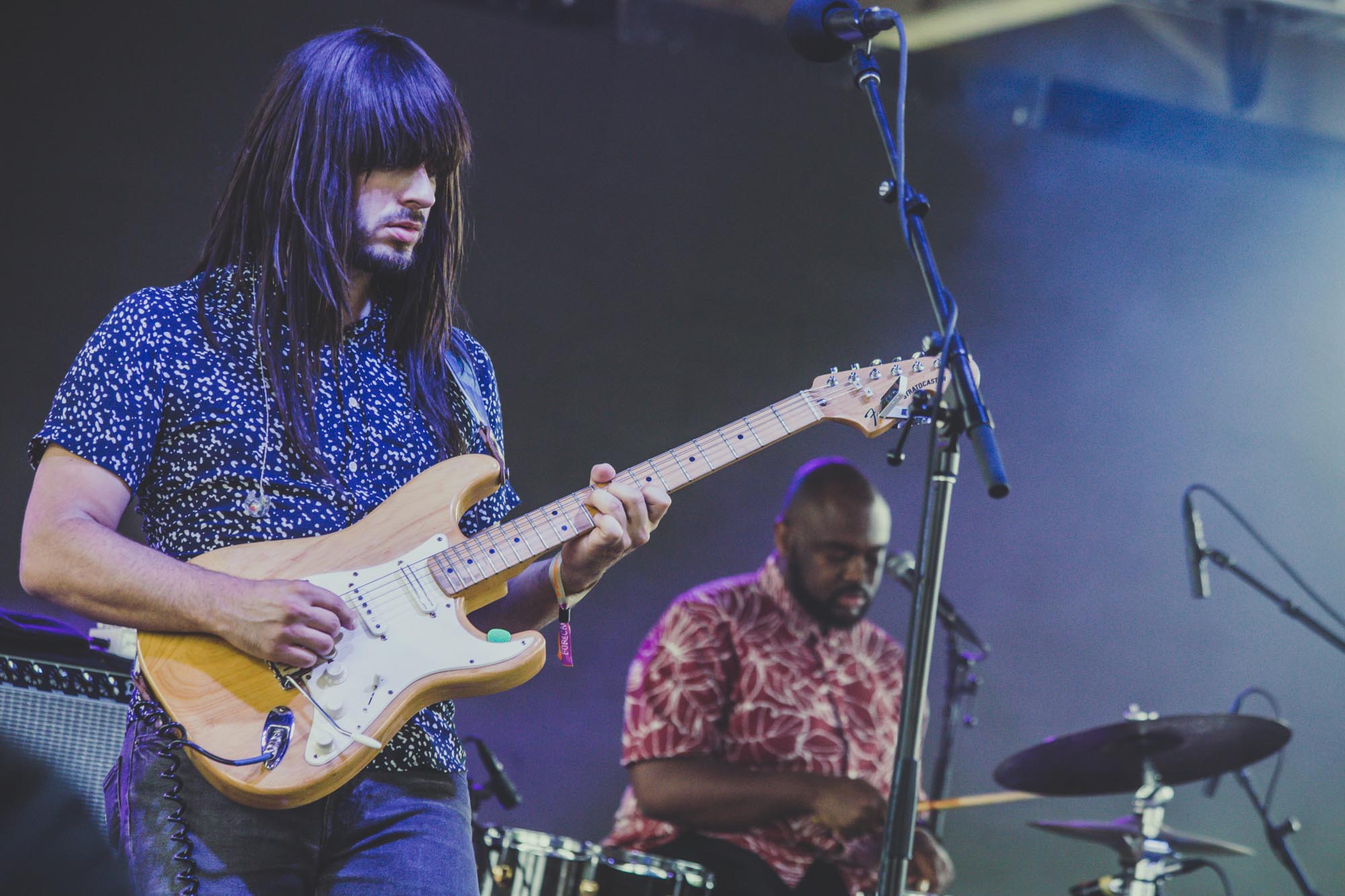 SAINt JHN
The self Proclaimed "Ghetto Lenny Kravitz" Carlos St. John aka SAINt JHN came to the Ocean Stage early and brought the trap chapel with him. Leading the crowd in a call and response, "When I say SAINt JHN, you say Amen, SAINt JHN, Amen". The young rapper hails from Guyana, by way of Brooklyn, and worships bad bitches and designs his own yacht over Caribbean-inspired beats. The two female DJs behind JHN flip their hair and encourage the audience to feel themselves. by Joel Stevens
Teddy Abrams & Friends Showcase
Forecastle Festival has always been a celebration of the best that Kentucky has to offer. Even as the festival continues to grow and attract people from around the world, it makes an impressive effort to shine a light on Louisville's local music scene, and this year was more Louisville-centric than ever before. Packed with a lineup curated by Teddy Abrams, famed Music Director of the Louisville Orchestra, the Port Stage moved to Kentucky Landing this year, which turned out to be a benefit to both the audience and the artists on stage. Previously located on the opposite corner of the festival, the Port Stage offered no shade in the years past. Being so far out of the way, it was often looked over by festival-goers if they weren't purposefully seeking it out. Now that it is nestled next to Kentucky Landing, people see the stage right as they walk in the entrance. Complete with lots of shade and picnic tables, the Port Stage looks inviting now, and attracts not just fans of local Louisville acts but also curious passers-by looking to get a break from the sun.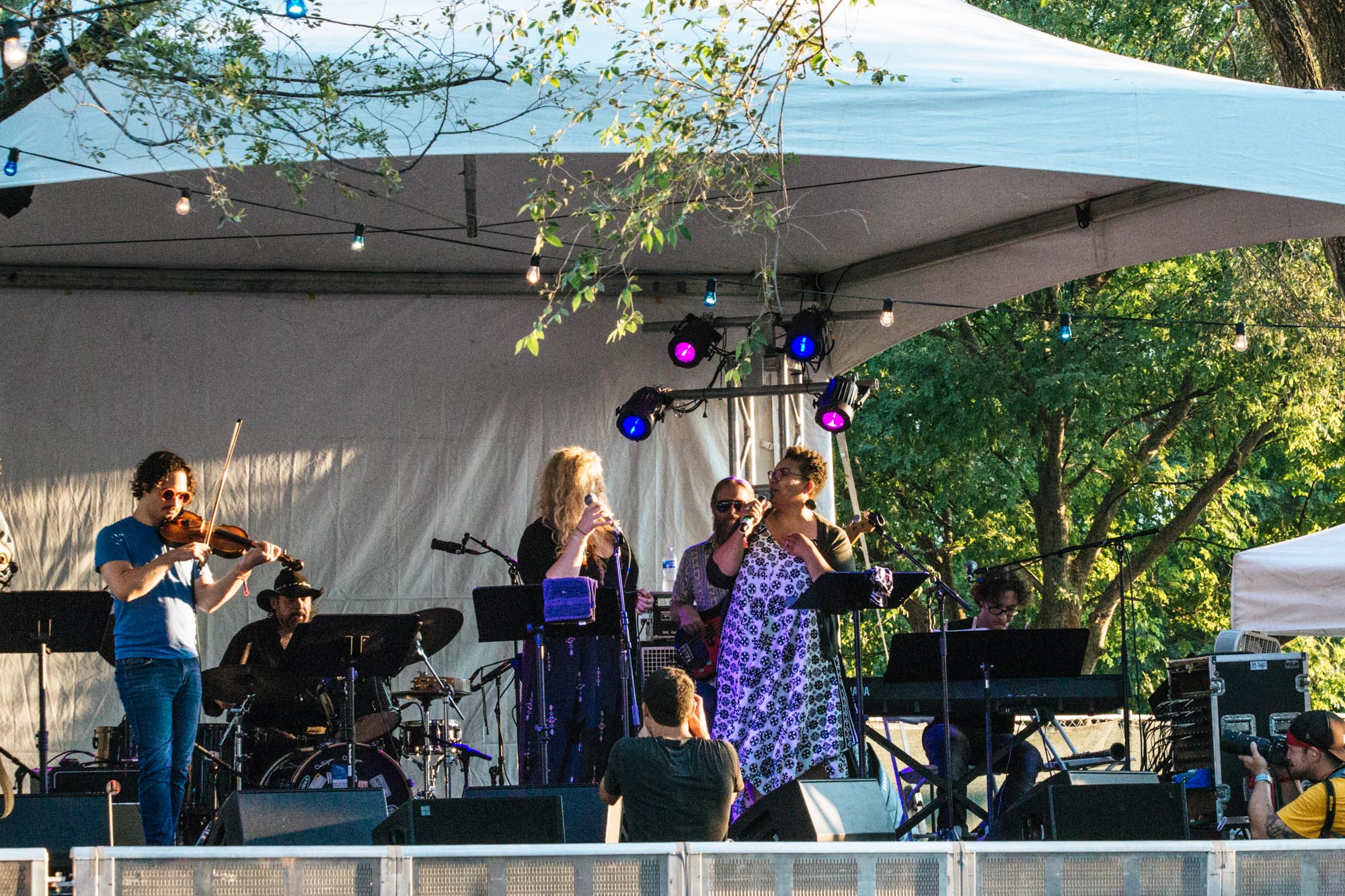 The Port Stage's final act of the weekend was billed Teddy Abrams and Friends. Like the rest of the weekend that Abrams had curated, this was a celebration of Louisville talent. Artists rotated in and out to perform a variety of covers while Abrams stayed on piano the entire hour set. The covers were all over the place: Ben Sollee sat in for Sting's "Fields of Gold". Matt Myers of Houndmouth sang Tom Petty's "Don't Come Around Here No More" and even had people line dancing to Billy Ray Cyrus' "Achey Breaky Heart." Carly Johnson sang a lovely cover of Des'ree's "You Gotta Be." Much to the audiences surprise (and delight) bass player Nathan Farrington absolutely nailed Bocelli's "Con Te Partiro". A personal highlight was 1200's version of Childish Gambino's "This Is America." It was the type of fun, low-key set that made it hard to wipe the grin off your face.
Although it was mainly musicians, other prominent Louisvillians were brought out as well. Poet Hannah Drake performed an untitled piece while Abrams' band backed her up with an improvised jazz piece that paired perfectly. Toward the end of the set was Mayor Greg Fischer, who read famous quotes and speeches while the backing band provided the melody for "One Love" by Bob Marley. Reading quotes from Jim James, Muhammad Ali, Albert Einstein, Barack Obama, and others, Fischer communicated an overall theme of progressivism and inclusivity that would have come across as corny if he had not delivered it in earnest. Instead, it was all the things that make Louisville such a great city, as performed by some of its most talented people. It was a great ending to a set (and weekend) that showed some of the best Kentucky has to offer, and it was hard not to walk away feeling anything other than proud. by Ben Hayes