The 15th annual
ROMP Festival
wrapped up last weekend, and even the 100-degree heat could not kill the good vibes. Growing in numbers every year, the festival continues to attract fans from around the world. Held annually at
Yellow Creek Park
in Owensboro, Kentucky, ROMP conveys a nice family-friendly atmosphere while relying on the music on stage to get the party started.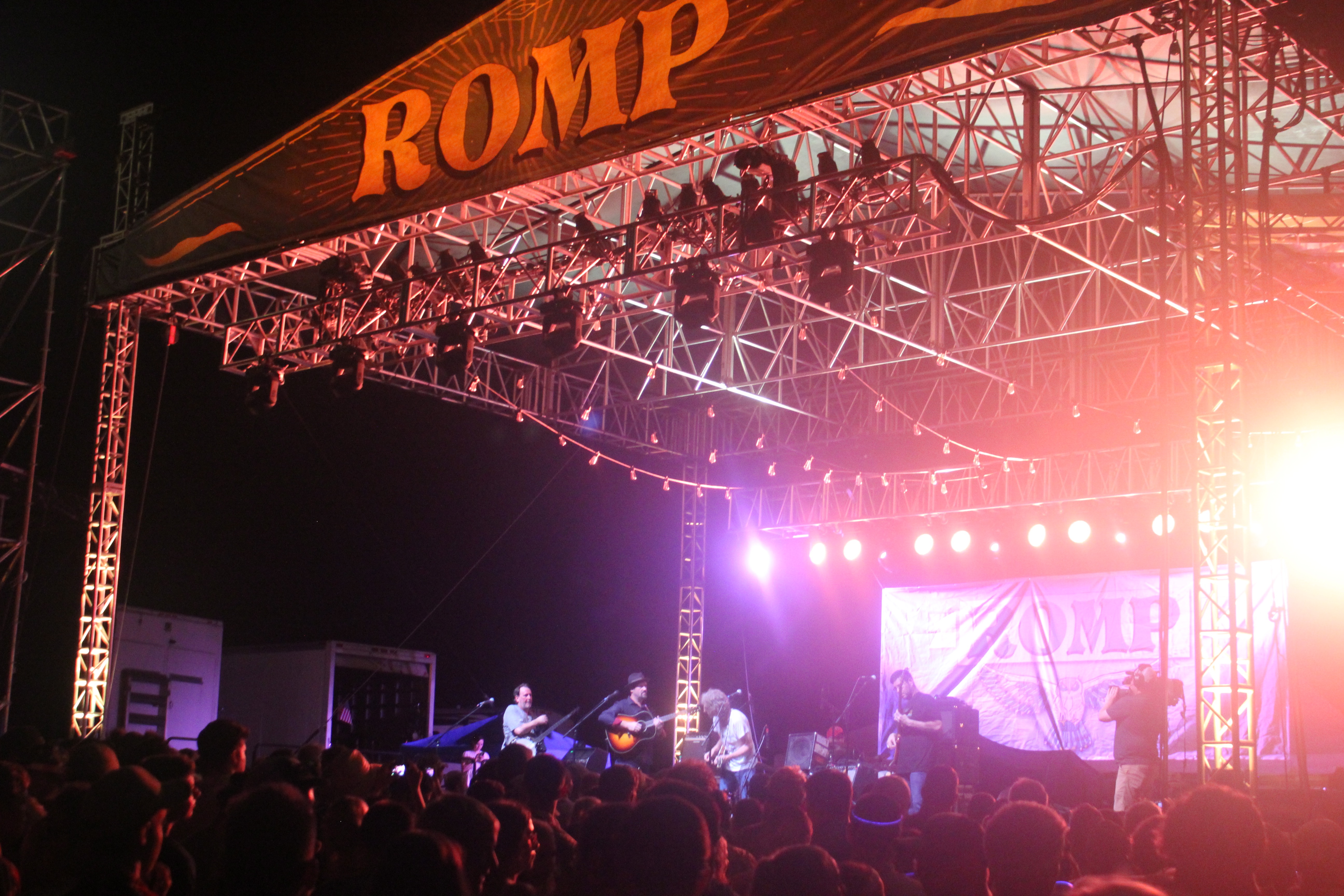 The crowd is truly a melting pot of locals, out-of-towners, festies, bluegrass enthusiasts, jam heads, and many others. The Dead Audio team was there to cover Friday and Saturday, and quickly got swept up in the bluegrass magic. Although we can recount our experiences the best we can, in the words of ROMP's Marketing Director Katie Keller in a
recent Dead Audio interview
, "Don't judge it until you've been." This is truly a special community to behold.
F

r

i

d

a

y

,

J

u

n

e

2

9

t

h
By Ben Hayes
ROMP started its day on Friday with a nice contrast of traditional and progressive bluegrass.
The Po' Ramblin' Boys
kicked things off with a classic feel that would please any bluegrass purist. Their sound evokes the early days of bluegrass music: something that one may hear driving through the Kentucky backwoods in the 1940s.
Next up was North Carolina natives
Fireside Collective
, who pleased the audience with a more contemporary set. Bouncing around genres like Americana, bluegrass, newgrass and folk, these young men could not hide the fact that they were happy to be there. As some of the members were introduced, the crowd cheered when they were told that one of the members just graduated college with a Bluegrass Music degree. Their energy was contagious as they threw out some original songs ("This one is about your woman sneakin' around on ya!") as well as covers "Eleanor Rigby" and "Uncle Johns Band".
Well-known bluegrass pros
Russell Moore & IIIrd Tyme Out
were next on the stage. Hailing from Georgia, the band showcased their vocal skills with the best sounding harmonies that were heard all day. Their cover of John Denver's "Country Roads" was enough to make you forget that you were standing in 90-degree heat.
We Banjo 3
was the most fun and lively set of the day. All the way from West Ireland, this band knew how to work a crowd. They had everyone (including the people in chairs) on their feet as they asked the audience to sing and dance along with them. They also held a dance contest between two members of the audience while covering "You Sexy Thing" by Hot Chocolate, giving the winner a band t-shirt. At one point one of them joked, "I always wanted to see the great cities of the world. Paris, New York, London…Owensboro."
Mixing in originals like "Don't Let Me Down", a song about personal struggles, with covers like the Jackson 5's "I Want You Back" and R. Kelly's "Ignition (Remix)", it was easy to see why this band drew such a crowd. They certainly left with loads of new fans, and a set that had everyone talking.
After the sun went down, it was time for headliner
Rhiannon Giddens
. Although perhaps better known as the lead singer of the Grammy award-winning band
Carolina Chocolate Drops
, Giddens has had success in her solo ventures as well. It quickly became easy to see why as Giddens delivered the best set of the evening. Haunting and beautiful, her unique vocal style sounds like it should be part of an earlier century.
She played many songs off of her newest album
Freedom Highway
, as well as early folk songs and old-time music. Most of the music of her set detailed the Black Experience in the South; something that, given the mostly white audience she was singing to in a very red state, felt like a political statement in and of itself. Giddens did not shy away from controversial topics during her set, discussing, among other things, immigration ("Some people have forgotten how they got here") and feminism ("Dolly Parton was such feminist. She just said what she felt!").
A southerner herself, Giddens took time to explain that the best way for us to move on together was to share ideas with one another, not as enemies but as friends and neighbors. While some may not have appreciated her message, there were plenty in the crowd who found it refreshing to hear a southerner speak out on so many topics that may not be popular in today's political climate. Bold and powerful, Giddens' set showed why she is a can't-miss when she comes your way in the future.
The Travelin' McCourys
closed out the evening with the type of strong bluegrass set that we've come to expect from the innovative band. Hailing from Nashville and having played the Ryman Auditorium the night before, these world-class musicians treated the crowd with familiar bluegrass tunes as well as originals, putting their signature flair on tunes like the Grateful Dead's "Cumberland Blues".
They ended the evening with an exciting show that kept the audience (old and young) there till the very end. It was the cherry on top of a stellar day of music, playing until midnight when the show finally ended. From there the festival-goers either went home, or disappeared into the woods for the late-night after-party.
S

a

t

u

r

d

a

y

J

u

n

e

30

t

h
By Blake Searcy
ROMP does a great job of creating a laid-back atmosphere that is necessary to produce top quality bluegrass. Despite Saturday being sold out, there were no long lines. Smiling faces at the front gate directed you to a field full of ample parking space. From there it was a short walk to the main stage.
All 5 members were positioned around a single microphone. This is an old technique that is starting to come back around, and it's easy to see why. The acoustics of each member blended seamlessly together to produce a smooth sound. Each member took turns facing off with dueling solos in front of the mic for a very intimate jam session.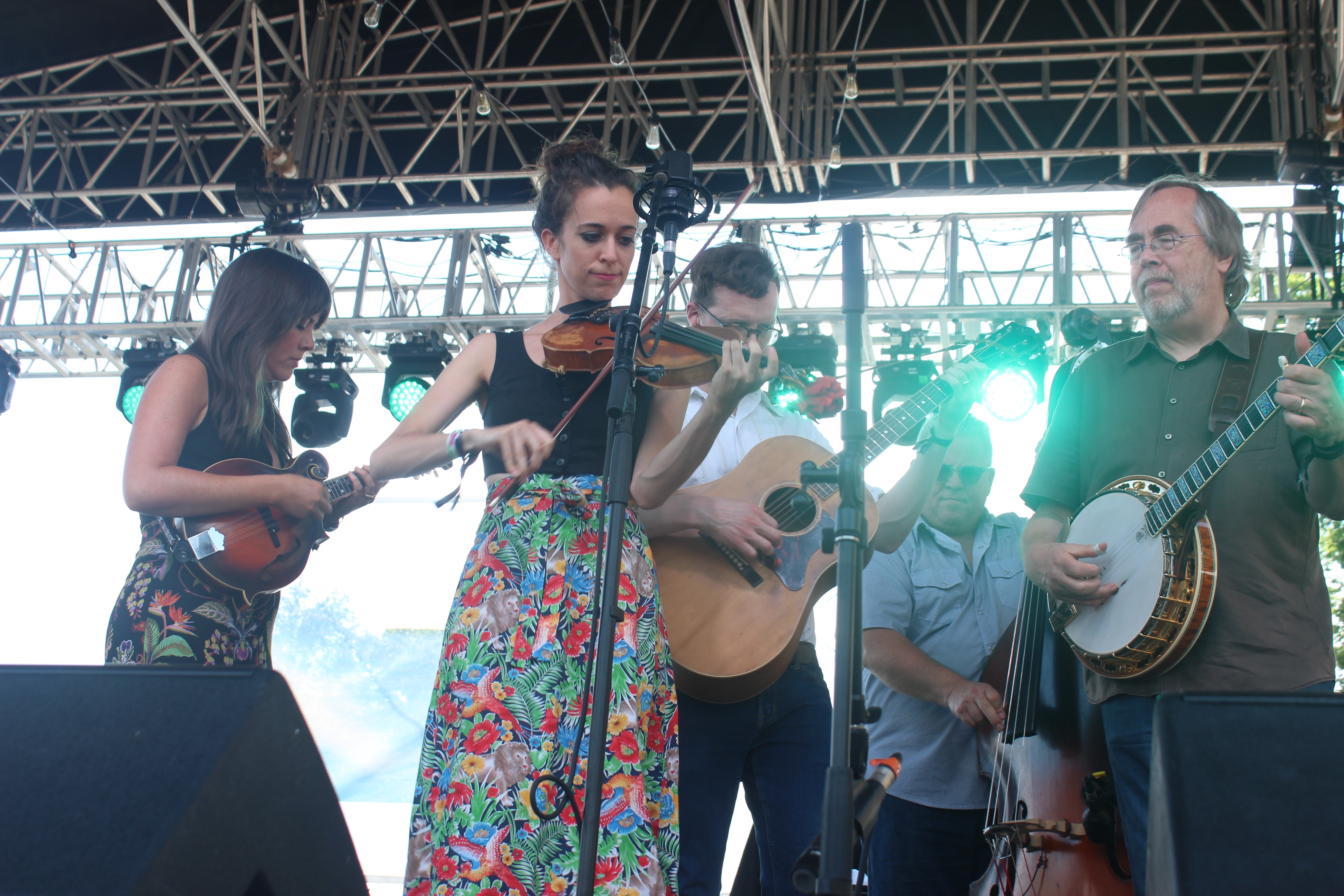 Next up was
Billy Strings
. At the age of 25, Billy is already showing signs of being a transformative bluegrass artist. He was joined by
Drew Matulich
 (mandolin),
Billy Failing
(banjo prodigy), and
Brad Tucker
(bass). Their set alternated through traditional bluegrass songs and some psychedelic tinged jams from his new album
Turmoil and Tinfoil
.
A highlight of the show was a cover of the Grateful Dead's "Me and My Uncle" where each member got to show their chops in an extended jam. Strings showed off an impressive blend of speed, accuracy and creativity that can only be achieved by a true guitar virtuoso.
After a short break,
Parker Millsap
took the stage with Daniel Foulks (fiddle), Michael Rose (bass) and Paddy Ryan (drums). Parker is also 25 years young and is an exceptional guitar player. His new album
Other Arrangements
was his first to feature electric instruments. Millsap provided a break from the traditional bluegrass as he moved effortlessly through pop, blues, and rock songs from the new album while revisiting some of the folk from earlier in his career.
From the moment we arrived at ROMP we could feel the buzz for Saturday headliner
Alison Krauss
. Expectations were high for the most-awarded living recipient of Grammy Awards, and she delivered. Alison took the sold-out crowd on a ride through her extensive catalog, with highlights including "Down to the River to Pray" from the
O Brother, Where Art Thou?
 Soundtrack, "When You Say Nothing At All," "Ghost In This House," "Stay," and "Now That I've Found You."
Playing after the sun went down, her soothing vocals combined with the occasional cool breeze brought much needed relief from the hot summer day.
Kentucky's own
Sam Bush
closed out the main stage with an exuberant set that featured songs from his band
New Grass Revival
, his solo work and a few covers. Bush continued to expand the boundaries of bluegrass with his blend of drums, electric and acoustic instruments while staying true to it's roots.
Bush walked off the stage at midnight to roars of "one more song" from an eager crowd. After a few moments he came back to the stage and said, "the festival has a strict 12 o'clock curfew, but they're letting me play one more song." He brought the house down with a cover of "One Love" by Bob Marley as the crowd locked arms and sang along.
The Saturday night after-party was held in Pioneer Village, a section of old cabins hidden in the woods. Under the cover of night, the audience was treated to Love Canon, a bluegrass band that solely played 80's covers. This seasoned five-piece band had the crowd singing along to "Don't You Want Me" by The Human League and "The Way It Is" by Bruce Hornsby, among many others. Watching this talented group play into the late hours was great way to wind down after a successful weekend.
Over 15 years, ROMP has grown into a world renowned bluegrass festival that should make every Kentuckian proud. Providing something for everyone, its popularity continues to grow and it's easy to figure out why. ROMP welcomes you into its tight-knit community with open arms, making everyone feel welcome and at home as they come together for their shared love of bluegrass music. If you go once, I guarantee you will go back. It's a can't-miss festival now. Don't judge it until you've been.