The dynamic synth pop duo Sylvan Esso wrapped up their What Now North American Tour with a sold out show in Knoxville, Tennessee at the Mill and Mine. In a venue created out of an abandoned railway depot, the stage setup was a stark difference, looking more like a space ship out of a science fiction film. With the combination of Nick's pulsating synth beats and Amelia's angelic, sharp lyrical delivery, Sylvan Esso continue to prove they are one of the brightest standouts in the music world today, and break the mold of pop music that can often be a slave to the radio.
Suzi Analog served as the opening act, providing trancy dance music to hype up the crowd. A scrolling LCD screen in front of her decks displayed punctuated text such as "original music…made by a woman" and "I hope my momma is bragging on me…in heaven". Outfitted in a red dress and heart-shaped glasses, it was all love from the DJ from Miami by way of New York.
Soon after, Nick Sanborn (synth) took to the stage shrouded in darkness as he began to play the opening beats of "Sound" the first track off Sylvan Esso's second LP, What Now. As the lyrics began to build, Amelia Meath (vocals) danced her way to center stage continuing the the song without skipping a beat:
"I was gonna write a song for you
Gonna sing it out loud
Gonna sing it at such decibels that
All you'll hear is sound and
All you'll feel is sound and
All you'll be is sound"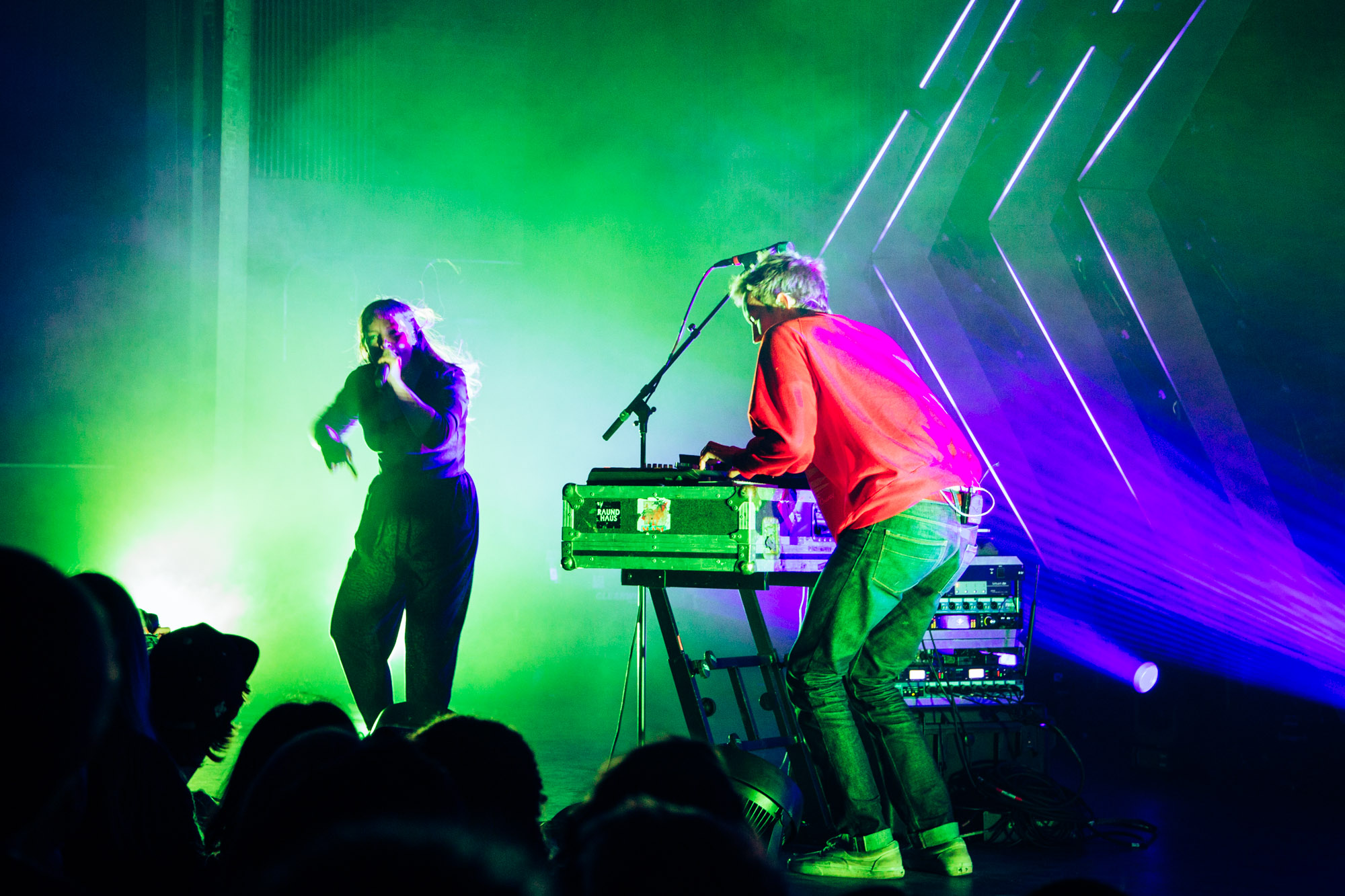 The last time the Dead Audio Team caught Sylvan Esso, their presence was a production in itself. At Bonnaroo 2016, Amelia was covered head to toe in "third eye" imagery with 6-inch platform heels. This time around the band seemed more relaxed, comfortable in their own skin, a message that resonates throughout their catalog.
The next few tracks showcased two standouts from the new ablum "Could I Be" and "Kick Jump Twist". Amelia was a constant dance machine, twirling across the stage like a ballerina while delivering lyrics as effortlessly as she moved her body (all around town). While anchored behind his synth/DJ set-up, Nick bounced around, the fresh-shaven modern wolf acting as a conductor for the set.
Early on in the evening, Amelia addressed the crowd in a deep, hushed tone, letting us know she was about to lose her voice and she would not be engaging in her usual stage banter, instead saving her voice for when it mattered.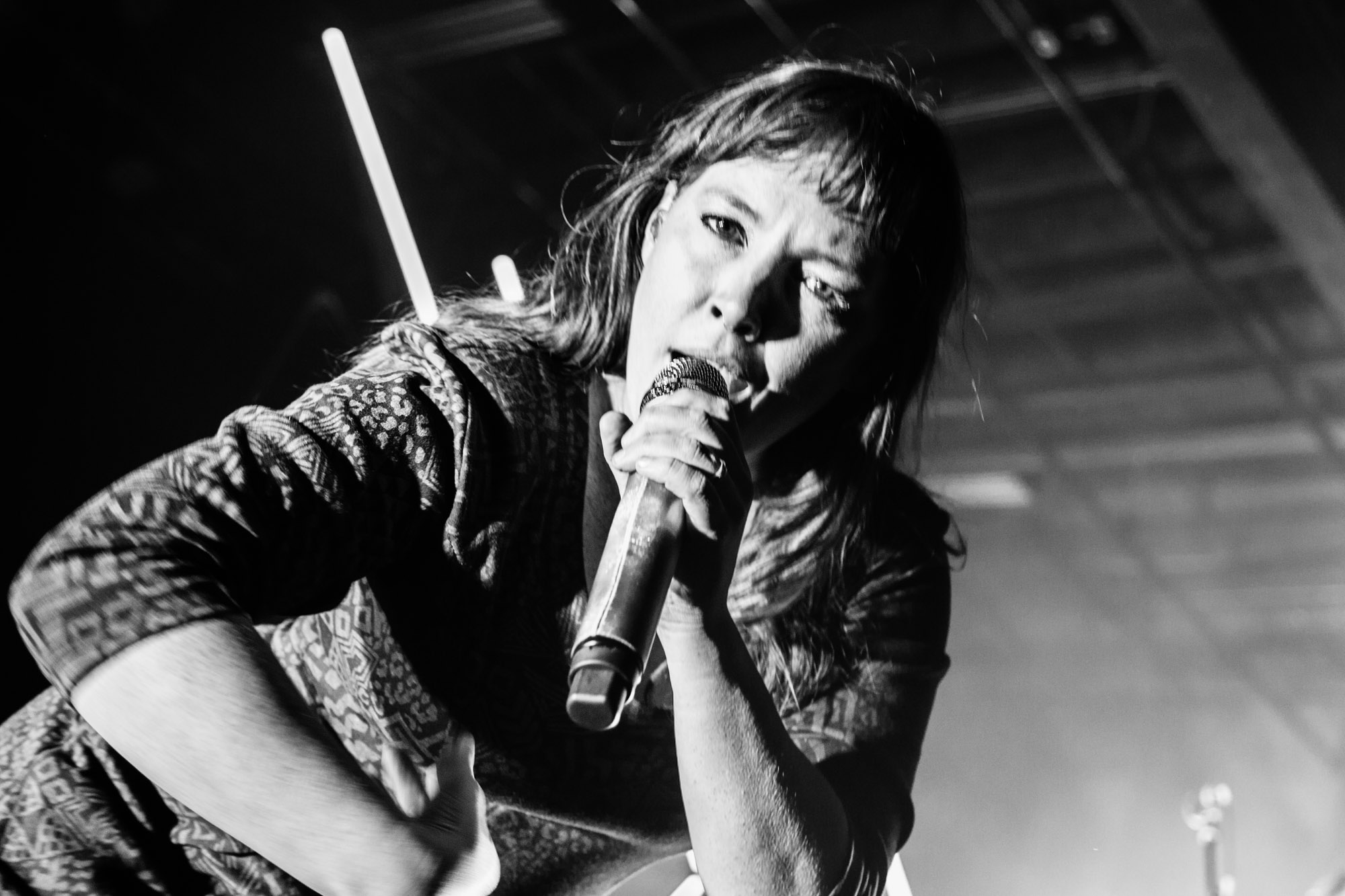 The stage set up was larger-than-life with giant reflecting "greater than/less than" symbols interlaced with LED strips that matched one of Amelia's tattoos. As the set moved from softer songs into bass-heavy dance tunes, the stage lit up correspondingly, providing a spectacular, patterned light show throughout the show.
Throughout the night he band pulled equally from both LPs with crowd favorites such as "Coffee" "Hey Mami" and "Die Young" inducing instant dance parties, encouraging lovers to embrace (and rock them in their arms) while singing every word.
As the night came to a close it was apparent that the band was relieved, knowing they could take a well-deserved month-long break before heading on their European Tour after their final bow (dip and woo).
Having just completed the first leg of the tour for their sophomore album, Sylvan Esso is still in the early stages of their career, on every critic's watchlist and are constant favorites at festivals. With constant remixes of the band's hits, collaborations with full bands and a tour set to expand their audience, it begs the question..What Now?